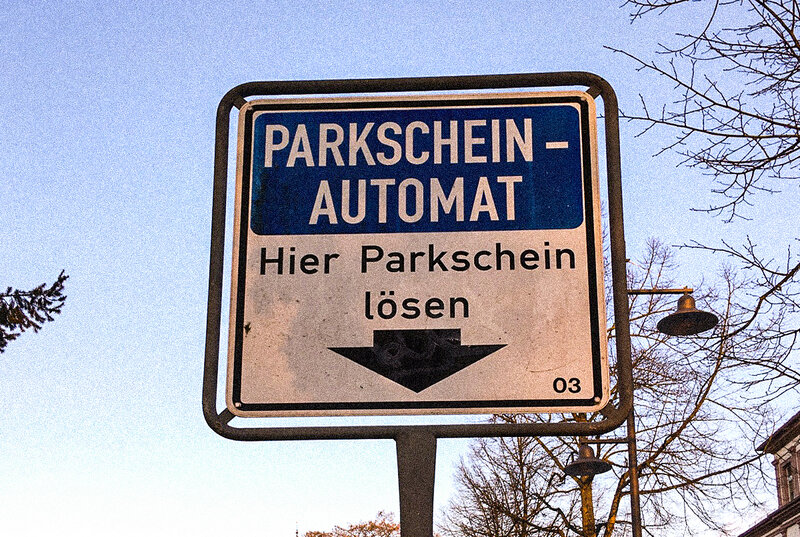 Free Parking without Coins
You need change for parking. Alternatives have a hard furrow to plough. An analysis.
Also in the new decade, we face a problem that probably exists ever since there are parking spaces.
In the week following New Year, I had to go to my trusted cleaners. Usually, I quickly pass by on my way to work. However, you cannot stop there directly in front of the door, but have to park at some distance.
Parking fees are a nuisance. Especially if you only need the parking space for a few minutes. So you look for ways to avoid them.
Ideally, I use the time frame between 8.30 am and 9 am, when the shop is already open, but you do not need any ticket, yet.
However, that day I ran late. Postponing the collection was out of the question. I needed the clean suit the next day. So I had to buy a ticket that day.
In Germany you need coins for parking. Since January 4, 1954. This was the day when parking meters were installed for the first time. In Duisburg in the street 'Am Buchenbaum' close to the main station.
Tickets
Meanwhile you rather use tickets that are available at parking machines, so that you are allowed to park in so called parking space management zones.
Unfortunately, I spent all my change during the holidays. I could not pay the parking fees with the remaining 67 cents and some notes in my wallet.
As you can never perfectly manage change (Who knows exactly what the future brings?), such situations occur from time to time. So there is a plan B: a second place where we hoard coins.
For such occasions, I always have a handful of coins in my car. However, this supply was apparently quite depleted by miscellaneous errands before Christmas.
Out of as many as 15 coins, only just 60 cents were left. Together with the 67 cents, it would be sufficient for the minimum parking fee amounting to one euro.
So you start calculating scrupulously. Cash management is definitively a lot of work. But it does not suffice to have enough money. You also have to have the accepted coins.
However, that day I obviously had bad luck. I forgot the fact that the parking machine did not accept 5 cent coins.
And here I stood with 190 euros in notes and 127 cents in coins and still could not buy any ticket. What next?
Card payment
The simplest alternative for car drivers is to pay with their card. After all, practically everyone has a girocard in his or her wallet.
Unfortunately, the parking machines are not equipped for card payments. There are simply no reading devices installed, where you could insert your card.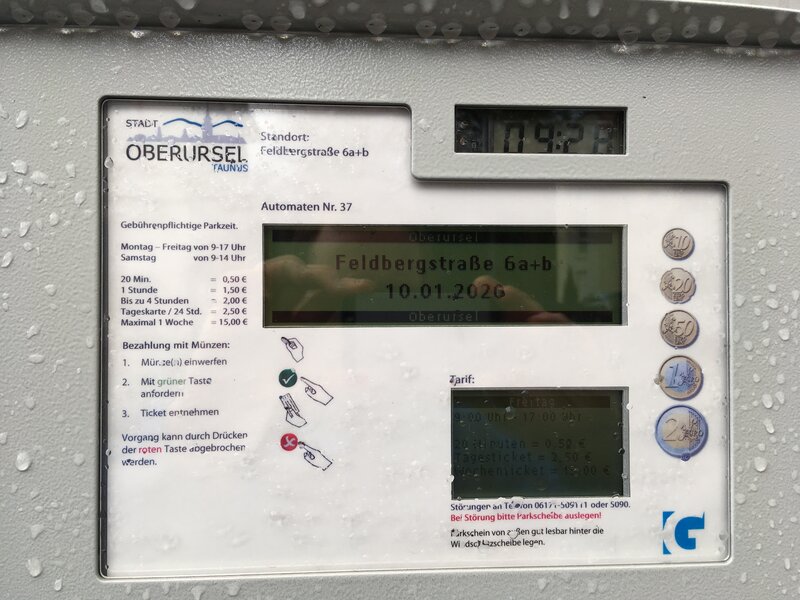 A parking machine is no mass product. In Germany, only about 2.500 machines are set up each year. The production in such small numbers makes these machines disproportionately expensive. You can expect the costs of a small car, i.e. about 10.000 euros, per machine. With these costs, it is not surprising that the local authorities often refrain from installing vandalism-proof card-reader units and the additionally required access to the internet.
For example, in Hamburg in October 2019, card payments were only possible at 20 out of 901 machines. At the end of 2020, after all we can expect 170 machines. At that rate, it will take more than 10 years though for all machines to be converted. In smaller cities it can take up to 25 years, until existing machines are modernized.
Cellphone Parking
A ticket can also be bought via cellphone, either via SMS or via a parking app.
Cellphone parking is too complicated for me. To begin with, it is not possible everywhere.
In Bad Homburg it is supported since 2009. However, five kilometers away, in Oberursel, only coins are accepted. In Frankfurt am Main, after all the fifth largest city in Germany, cellphone parking was introduced three months ago.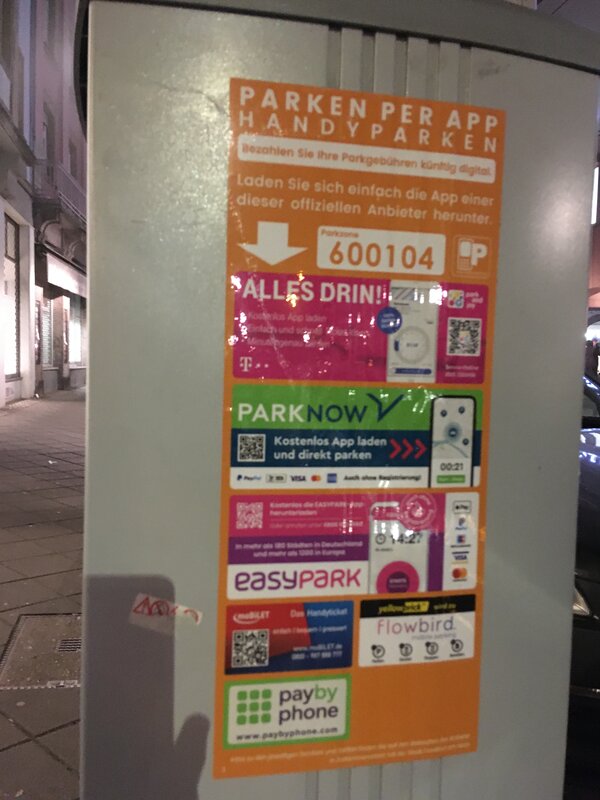 In all of Germany, depending on the provider, up to 200 locations are associated. In relation to the 700 cities with more than 20.000 inhabitants existing in Germany, it becomes apparent that cellphone parking is indeed not available across the whole country.
Secondly, there are different providers in each city. In the first place you have to find out which provider is the best for yourself.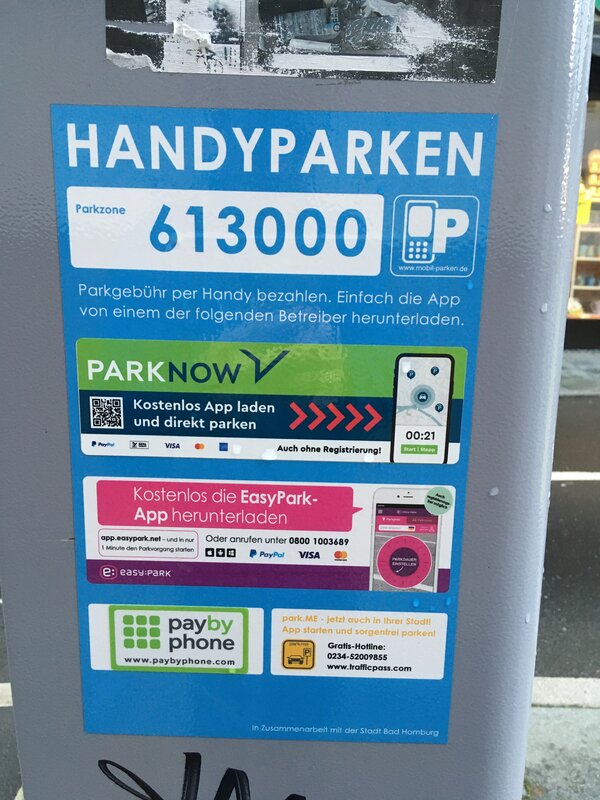 You are informed about the supported providers on a label on the parking machines. Or you search online on pages such as smart-parking.de.
I once observed a man who tried to buy a ticket with his cellphone for more than 10 minutes. I do not have so much time. All I want is to pick up something from the cleaners.
When I asked him why this took so long, he told me that the tariffs are very confusing. Moreover, it is also surprisingly expensive.
The providers charge a service fee. Unfortunately, each provider has its own tariff structure.
ParkNow charges a lump sum amounting to 25 cents. For frequent parkers, they offer a flat rate of 2.99 euros per month.

PayByPhone usually charges a service fee amounting to 10% of the parking prices.. In some cities the city bears the costs and you can even use the service for free. In other cases, the city also wants something in return for its extra effort and expense and thus higher fees are charged, such as 14% plus 14 cents in Konstanz.

The fees charged by EasyPark always depend on the city. In Bad Homburg you have to pay 15% of the parking fee and at least 49 cents. They also offer flat rates for corporate customers.
In addition, you should also keep in mind that in some cities you need a parking card so that the inspectors know which app to use. If you cannot print it yourself, this card sometimes costs 2.49 euros.
If I compare today's cellphone parking with the experience I made in the early 2000s with parking via card payments, it seems like one step forward and two steps back.
Yes, you do not have to go to the parking machine anymore and can handle everything with an app. But on the other hand, you have to deal with complex tariffs and to agree to 20 pages of SBTs. In the end you even have to pay significantly more for the tickets. It is hardly surprising that nobody uses this service.
After ten years, in Bad Homburg cellphone parking has only captured a market share of 1%.
The future
So will we always have to pay parking tickets with coins? And where do we get them from in a more and more cash-free society? The problem concerning the tickets must be solved somehow. But how?
I decided to run to the store. Considering the distance of about 100 meters, I ought to make it back in 3 minutes, the timespan German traffic regulations allow for stops. However, this only works if I can count on the traffic light on the way. Would I be lucky?
Enabling all parking machines to accept card payments is not only expensive, but also takes more than ten years. This is simply too slow. Financing a faster modernization with higher fees will not have political majorities. Offering card payments at all machines thus seems to lead to a dead end. The fully digital solutions will become prevalent.
I walked the way itself quite quickly. The traffic lights were green.
The acceptance depends on the price per parking process. The customer will only request parking tickets via an app, if she does not have to pay more, but rather less. However, as long as the cities do not want to bear the high service fees, it continues to be difficult. Then again they do not benefit from the savings potential of digitalization before the end of the process. Only if a large majority uses the new systems, controls and parking machines can be reduced.
An elderly lady who had plenty of time for social interaction with the salesperson thwarted me. It did not help to give any kind of signal.
In the end I stopped for a whole seven minutes at the municipal parking, instead of the permitted three minutes.
A better payment system that lowers the costs for small payments can certainly also lower the provider's costs and thus the service fees. Nevertheless, the providers who solely offer parking, remain trapped in the micropayment dilemma: Lower fees, together with small turnovers simply do not result in a business model. And the customers are not willing to pay high fees.
The ladies and gentlemen from the regulatory agency are also always quite on time. In fact, I already saw them coming at the traffic light. But my car stood in the middle of a long parking. Before they controlled all cars that stood before mine, I was already on my way to work with my clean suit on board.
So coin-free parking will only prevail in the long term, if it catches another wave. Be it as tourism development of the cities or environment protection (no more thermopaper!).
It could also serve as a differentiation of automotive manufacturers, car dealers or rental car companies. Let's see who embraces this opportunity first.
Later I added the saved euro to my supply for fines. The next speeding ticket will come for sure.
translated by Susanne on Mar. 26, 2020
Good Idea?
tell@puzzle2pay.com